TIPS AND TRICKS FOR TRIMMING YOUR DOG'S NAILS
AT A GLANCE
Importance of trimming your dog's nail.

How to choose the trimming tools,electric nail grinder or nail clipper?

Accustom your dog to having her paws touched and handled

Trim enough but not too much

How to trimming the dark nail?
Importance of trimming your dog's nail.
I believe you are not the only dogs parents who doesn't like to trim dogs' nails. Many people are reluctant to trim their pets' nails,they throw the problem to groomer and vet. It's fine if you're in a position to make (and pay for) appointments as often as your dog needs nails trimmed.
Too long nail will do harm to the dog's health and the things around you:
Hazard 1: EASY TO DAMAGE FURNITURE
Dogs are naturally active. If their nails are too long, they are uncomfortable and are easy to grind their nails on the floor or some furniture. At the same time, they are easy to hook up items and damage furniture.
Hazard 2: EASY TO CATCH AND HURT PEOPLE
When the owner interacts with the dog, he will scratch people accidentally. If the nail is too long, the wound will be deeper and easy to infect.
Hazard 3: Easily injured
If the nail is too long, it will not be stressed and it is easy to break, so the dog's foot will be injured. And the nails will stick into the meat pad, which will be very painful.
Hazard 4: FEET WILL BE DEFORMED
Long nails will affect the dog's walking.Dog will change their walking posture to walk more comfortably, it will bring pressure to the dog's bones and joints. If your dogs walk in this abnormal posture for a long time, it is likely to suffer from arthritis and bone problems.
It's important for dog parents trim your dog's nail regularly.
How to choose the trimming tools,electric nail grinder or nail clipper?
Although nail clippers are effective, there is a risk of shortening dog's nail if your dog moves suddenly. The cut nails also have straight edges, which are easy to damage furniture and wooden floors. If you worry about this, you may want to consider using electric nail grinder. The electric nail grinder provides you with more control and eliminates the risk of rapid cutting. They also let you trim your dog's nail smooth.Personally, I recommend this nail trimmer, I have used it for many years. It has a silent motor, which is very suitable for anxious dogs because low noise won't scare them. For more information, click here.
Accustom your dog to having her paws touched and handled
Dogs' paw pads are equipped with nerve receptors that help protect them when they walk and run. These receptors also make their paws more sensitive to manipulation than other parts of the body.
So if you grab your dog's paw too hard, it will frighten your dog and make him overreact.
Touch your dog's paw into petting. Do this by stroking his/her head and body, and then work your way to the paws.
If the only time you touch your dog's feet is to trim her/his nails, he/she will immediately know what is coming when you touch her/his paws.
Another thing to remember is not to rush,I suggest use of food treats, soothing speech and cuddles to motivate your dog and inspire him/her to trim nail.
Trim enough but not too much
Regular nail trims are very important! Unlike human nails, the longer you leave dog nails untrimmed the longer the vein inside the nail will grow - making it difficult to keep the nails short. To avoid this from happening it is recommended to trim the nails every couple of weeks, and keep the quick (and nails) nice and short!Please avoid the quick. In fact, don't even get close to it. You only want to trim the white or dark ends of each nail.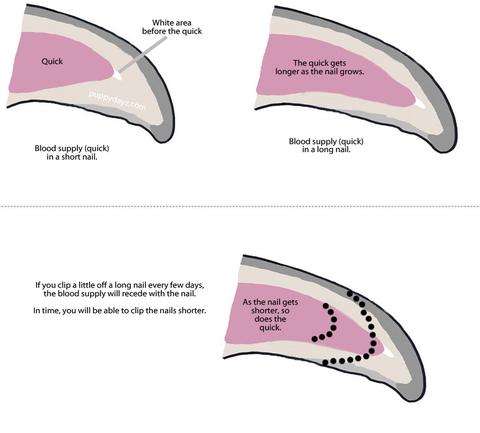 A traditional cut just takes off the bottom of the nail. The alternative cut line (ACL) removes the outer layers above the quick as well. The orange line demonstrates the traditional line that nails are trimmed, while the blue line is the ACL. When the lines are drawn on the same picture, you can see how much more nail is able to be trimmed before reaching the quick. The trim should be at an angle. This way more of the quick is exposed to air, causing it to recede faster. So, don't forget the alternative cut line when doing nail trims!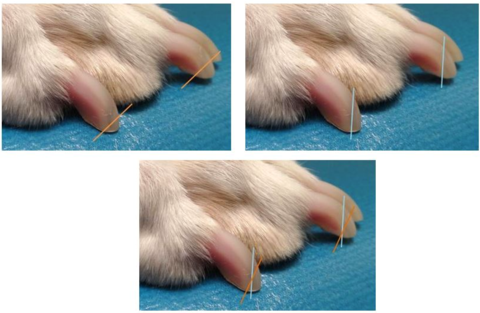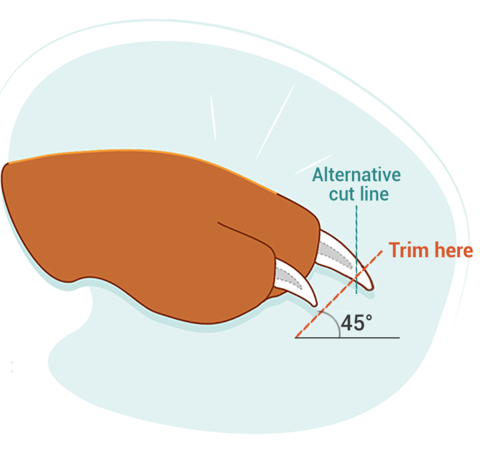 STYPTIC POWDER (OR JUST USE CINNAMON POWDER)
If you hit the quick of your dog's nail, please keep calm first, take a cotton ball or styptic/cinnamon powder to press the broken nail bleeding place, calm the dog's mood, observe the bleeding mouth, and let go when there is no bleeding.
How to trimming the dark nail?
Many dogs have dark nails, which are especially tricky because you can't see the pinkish quick, which is the blood vessel inside the nail that nourishes it.
Shine a small flashlight or penlight on dark nails so you can see the quick, which should appear like a black bullseye in the center of the nail from the front view vs guessing how close you are to it.
If you can't see the quick on dark nails, you should trim them carefully and slowly ,do very small trims several times.,cut 2-3mm each time. When you see a darker black spot in the middle of the nail, you can stop trimming.
▶ INTRODUCING

 HaloPaw ◀




DOG NAIL TRIMMER 3.0
Click here to start trimming in the safest and most humane way! Happy trimming