HaloPaw™ ELECTRIC NAIL GRINDER UPGRADED 2021
【HaloPaw™ nail grinder outperforms other models on many levels. It has a significantly lower noise level that does not startle dogs. It also features a diamond bit head, longer operating time, more powerful than others grinder, 2 size settings and ultra low vibration making it suitable for sensitive dogs. See table for a full comparison.】
customers are viewing this product
【HaloPaw™ nail grinder outperforms other models on many levels. It has a significantly lower noise level that does not startle dogs. It also features a diamond bit head, longer operating time, more powerful than others grinder, 2 size settings and ultra low vibration making it suitable for sensitive dogs. See table for a full comparison.】
Ultra-Powerful Grinder for Medium and Large Dogs: With 4.8 volts of high power motor, HaloPaw new pet nail grinder is 3× more powerful than previous grinder. That's strong enough to get all the job done within a few minutes, even for the tough nails of larger dogs.
Effective 2-Speed : By summarizing the previous experiences, the 2 grinding speed of the latest version has been raised to 8000rpm and 10000 rpm. It's great to trim both white and dark nails. And the new grinder still uses a diamond bit wheel, delivering the most comfortable pet claws grinding. 
Safer 2 LED Lights Design: HaloPaw electric dog nail trimmer has 2 LED lights. It allows you to see the dog nail area easier and prevents you from over-grinding. Dual LED lights is a new design. The light shines more accurately than other ordinary LED grinders, making grinding safer and more precise.
Super Low Noise & Vibration: Many pets get stressed by the sound and vibration of pet nail grinder. However, our electric pet nail grinder uses a superior motor with whisper-quiet technology that produces a very low vibration to keep pets calm and help sand pets claws faster and easier.
Rechargeable & Easy to Use: This cordless dog nail grinder comes with a USB cable for charging, it can last for 2 hours after a 3-hours charge. The lightweight and ergonomic body design makes it easier to handle and easily to grind your pet's nails anywhere.
HaloPaw New Dog Nail Grinder Features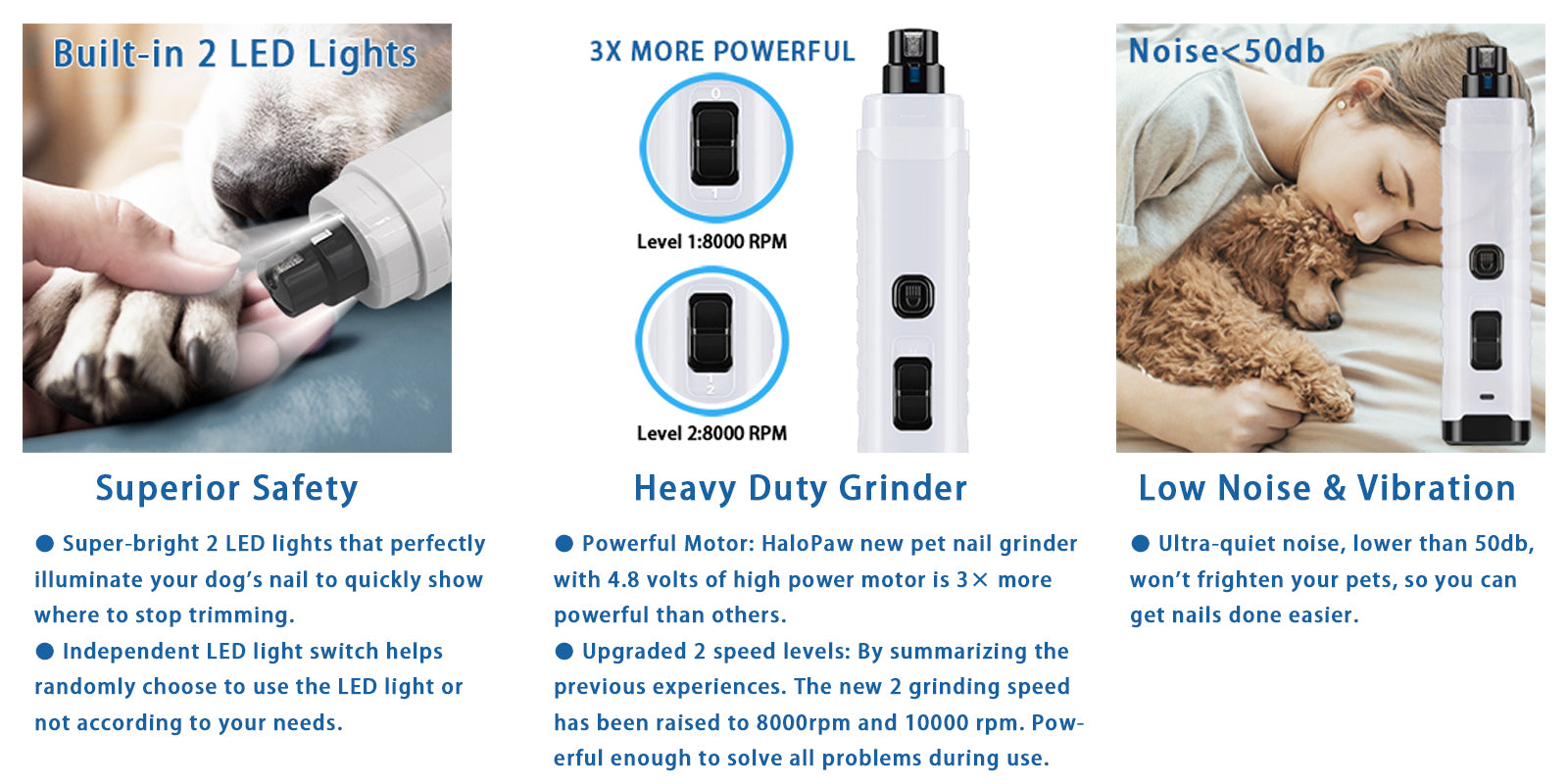 How to Use the Dog Nail Grinder Correctly

Why are electric nail grinder better?
Traditional nail clippers risk cutting the quick, causing serious pain and injury. An electric nail trimmer provides better control eliminating the risk of overcutting.
The sharp edges of clipped nails may cause scratch wounds and damage to your furniture, but with an electric nail file they can be trimmed round and smooth to prevent this.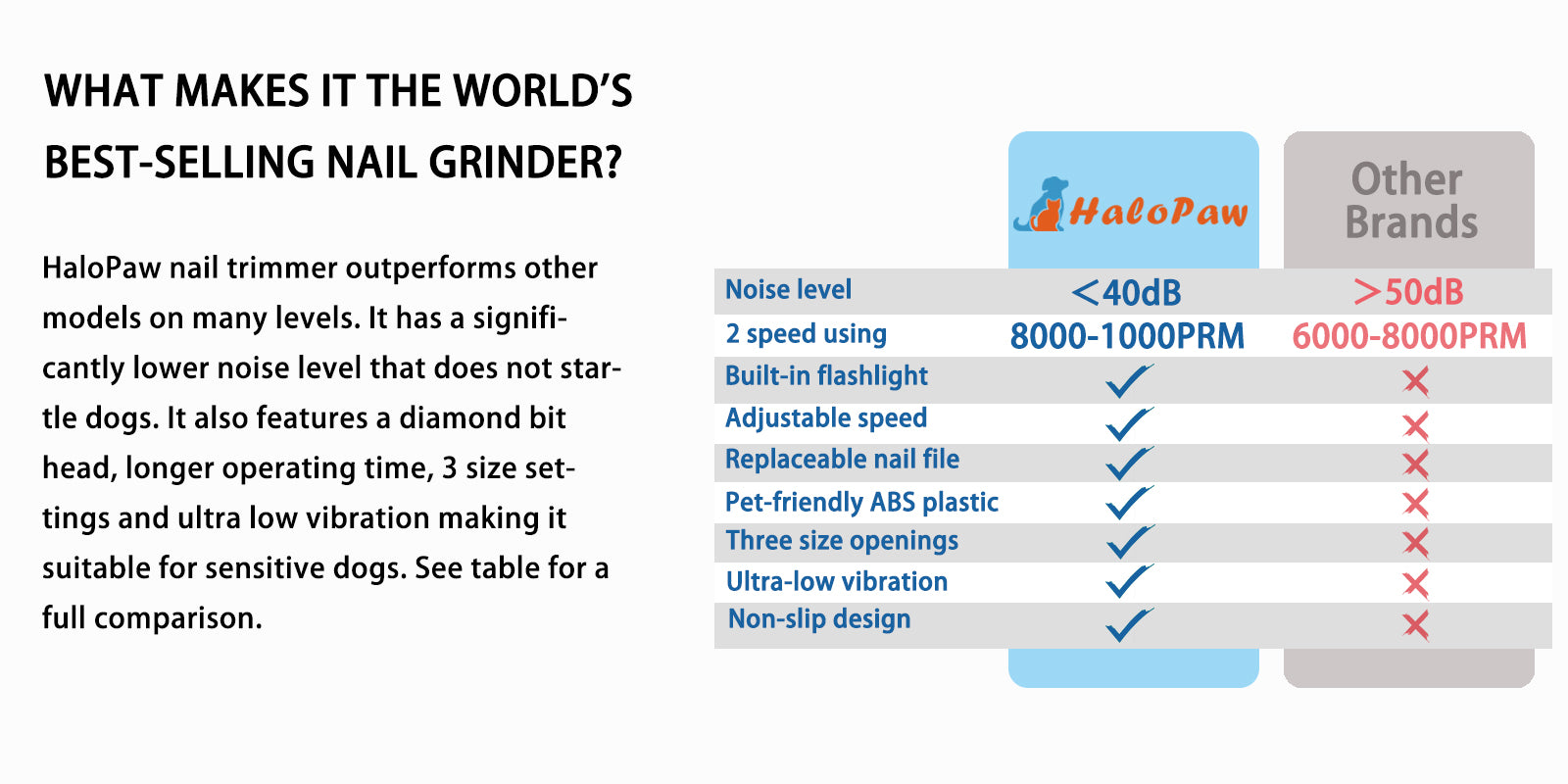 The necessity of dog's nail care
Trimming the dog nails is not just for aesthetics, if the dog's nails are too long, they will curl up and grow into the soles of the feet.
This can be very painful, it can cause the pet to limp and may be infected.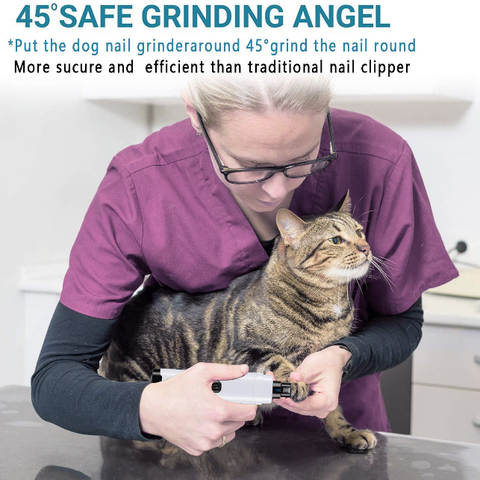 The veterinarian recommends frequent pruning to:
1.Keep your dog healthy and happy.

2.Prevent the dog from suffering severe pain and injury.

3.Prevent an infection.

4.Prevent  the nails from being too long and scratching people and objects






Why Choose Us?
By summarizing the previous experiences, HaloPaw's new dog nail grinder 3.0 upgraded a lot, especially in power. The new grinder is super mighty and won't be afraid of tough nails. It offers a soft, smooth, and painless way to trim and groom your dog's nails quickly and easily, reducing the risk that comes with over-clipping. Giving your dog healthier paws with better comfort.